CBMU Spring Conference 2018
Conference Venue: Queen's Landing Hotel, Niagara-on-the-Lake, Ontario

THEME:
BLOCKCHAIN AND EMERGING TECHNOLOGIES IN MARINE INSURANCE.
What the Marine insurance market should know and be ready for!
Program
Dress Code: Business Casual
Wednesday, May 23, 2018

5:30 p.m. – 7:00 p.m.
Welcome Reception - Atrium - SPONSORED BY:
Thursday, May 24, 2018
8:00 a.m. – 9:00 am.
Breakfast - Tiara
Educational Program - Grand Georgian Ballroom
9:00 a.m. – 9:15 a.m.
Opening Remarks and President's Report
9:15 a.m. –10:15 a.m.

Industry Updates:

Speakers:

TRANSPORT CANADA
François Marier, Manager/Senior Policy Advisor, International Marine Policy
THE CANADIAN MARITIME LAW ASSOCIATION (CMLA) -
David Colford, CMLA

10:15 a.m. – 10:30 a.m.
Coffee Break - SPONSORED BY:
10:30 a.m. – 11:30 a.m.

Industry Updates:

Speakers:

MARINE INSURANCE ASSOCIATION OF BRITISH COLUMBIA (MIABC) -
Mariella Dauphinee, President
AMERICAN INSTITUTE OF MARINE UNDERWRITERS (AIMU) -
John Miklus, President

11:30 a.m. – 1:15 p.m.
Luncheon - Grand Georgian Ballroom SPONSORED BY:
1:30 p.m. – 4:00 p.m.

Educational Sessions

Guest Speakers:

Peter Miller, The Institutes
Juan-Jose Ruiz, Blockchain Business Development, IBM Industry Platforms

---

Blockchain Technology: What Blockchain means for the Insurance industry and its scalability in the Marine Insurance world.

Peter L. Miller is president and chief executive officer of The Institutes and a member of The Institutes' Senior Management Team. He also chairs the CPCU Society Board of Directors and The Griffith Insurance Education Foundation Board of Directors, as well as serves ex-officio as a member of The Institutes' Board of Trustees. Before joining The Institutes in 1992, Miller worked as a computer consultant and as a project coordinator for Intracorp, a subsidiary of CIGNA Corporation. Miller is a board member of the Insurance Institute of Switzerland, Gamma Iota Sigma and the Casualty Actuarial Society. He also chairs the Institute for Global Insurance Education and is a member of the Independent Insurance Agents & Brokers of America InVEST Board of Trustees. A graduate of Colorado State University, where he earned a bachelor's degree in business administration, with a minor in economics, and a master's degree in systems management, Miller also holds an MBA from Villanova University and has done extensive PhD-level work in computer information systems.

For more than 100 years, The Institutes have been the leading provider of professional education for the risk management and property-casualty insurance industry in the United States. In the recent years, the Institutes formed The Institutes RiskBlock Alliance. It is an industry-led consortium collaborating to unlock the potential of blockchain across the insurance industry.

---

Juan-Jose Ruiz, Blockchain Business Development, IBM Industry Platforms

Digitizing Global Trade with Maersk and IBM -
How Maersk and IBM are partnering to reduce global trade barriers and increase efficiency across international supply chains

Digitizing Global Trade with Maersk and IBM: An open global trade platform using blockchain technology aimed at improving the cost of transportation, lack of visibility and inefficiencies with paper-based processes. The platform aims to reduce global trade barriers and increase efficiency across international supply chains, connecting the entire supply chain ecosystem. It is being built on an open technology stack and is underpinned by blockchain technology.


The attributes of blockchain technology are ideally suited to large networks of disparate partners. A distributed ledger technology, blockchain establishes a shared, immutable record of all the transactions that take place within a network and then enables permissioned parties access to trusted data in real time. By applying the technology to digitize global trade processes, a new form of command and consent can be introduced into the flow of information, empowering multiple trading partners to collaborate and establishing a single shared view of a transaction without compromising details, privacy or confidentiality

Juan-Jose Ruiz

is a global Strategy and

Business Development executive with experience in technology, financial services, and media/information industries. He is currently leading IBM's Blockchain business development efforts across severalverticals with particular focus on Global Commerce.


Prior to IBM he played a number of strategic and operational roles at Thomson Reuters based in Europe, Asia, and the Americas including leading Strategic Alliances efforts for the Scientific division worldwide. Juanjo started his professional career as a software engineer in Spain developing some of the early web-based vertical b2b marketplaces. He holds a Computer Science and Engineering degree from the Universidad Autonoma de Barcelona, an MBA from Mannheim Business School, and got his Chartered Financial Analyst accreditation from the CFA Institute. In his free time, Juanjo is an active start-up mentor in the NYC area and volunteers in local youth sport organizations.

Coffee Break - SPONSORED BY:

Educational Sessions

Guest Speakers:

Andrew Yeoman, Concirrus
Jonathan Kalman, Eos Venture Partners

---

Andrew Yeoman, Chief Executive Officer, Concirrus

Looking into the crystal ball: the future of marine insurance

The world of shipping is undergoing a digital revolution. From vessel movement data to port statistics and engine diagnostics, there is endless data available that can open up countless opportunities for marine insurers. Coupled with advances in automating transactions between counter-parties using blockchain, marine insurance will change dramatically creating new opportunities and potential for competitive differentiation and advantage.

In this presentation, Andy Yeoman and Jonathan Kalman will share their view of where they see marine insurance going and what marine insurers can do to prepare, drawing parallels between marine insurance and transformation in similar industries.

Andy co-founded Concirrus in 2012 following a long and successful track record in telematics and extensive experience of fast-growth business strategies, turnarounds, mergers and acquisitions. Before Concirrus he worked with Trimble Navigation where, as Managing Director, he expanded the business across Europe, America and Asia.

Andy has spent many years working with commercial and personal lines insurers to transform their businesses through technology. As a result, he has established himself as an IoT thought leader and is passionate about the new business models that technology can unlock for insurers and their customers.

Concirrus is pioneering a real-time, behavioural approach to underwriting and risk management, made possible by technology like the internet of things, ubiquitous and near free communication, and cheap computing.

Focused on commercial marine and personal lines motor, Concirrus's software, Quest, accesses and interprets large sets of behavioural and situational data and combines this with an insurer's own information to reveal the behaviours that correlate to claims. This presents exciting opportunities for insurers to offer enhanced customer-centric products, reduce losses and operating costs, increase profit margins and build more collaborative relationships with brokers and customers.

Andy is also the Cofounder of Youtoggle, holds non-executive directorships and Chairman roles and regularly advises the Venture Capital and Private Equity community.

---

Jonathan Kalman, General Partner, Eos Venture Partners

Jonathan Kalman is a venture capitalist with over 20 years experience investing in software and services companies for the insurance, payments and banking industries. Mr. Kalman is renowned for his operational and business building expertise, and over his career has created billions in shareholder value.

Mr. Kalman is a General Partner at Eos Venture Partners, a Strategic InsurTech Venture Capital fund with offices in London and Philadelphia. Eos is a Series A and Series B investor in new business models and new technologies that will impact and transform the insurance industry.

Previously, he was Managing Partner of Jaguar Capital Partners, a private equity firm, and in that capacity completed the landmark spin-out of 1.2M cable subscribers from the Chinese government creating the 20th largest cable system in the world.

Mr. Kalman was the founder of Katalyst LLC and its affiliates including Katalyst Venture Partners LP and Katalyst Securities LLC. With six investment professionals, ten investment bankers and thirty-five operating partners, Katalyst was the first venture firm to heavily integrate a comprehensive approach to business-building into its investment model.

For the last decade Mr. Kalman has focused exclusively on the insurance industry in the US and abroad.

7:00 p.m.

Dinner - Jackson Triggs Estate Winery

(Transportation will be provided. Departure from the Hotel at 6:00 p.m. and 6:20 p.m.)
---
Dinner Information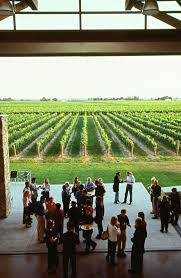 Explore Your Senses at Jackson Triggs Estate Winery!
Thursday, May 24, 2018
Imagine a 'self guided' tour of Jackson-Triggs Niagara Estate while enjoying award-winning wines complemented by gourmet cuisine. As guests arrive they will be presented with the evening's program featuring the wine, menu and a map to lead the way from station-to-station. Guided tours will be offered throughout the evening to provide in-depth winemaking knowledge. Each guest will experience an evening of winery self-discovery as they network and indulge in bountiful wine and culinary stations at beautifully appointed locations throughout the facility.
---